Your friend may prefer the comfort of your bed, as opposed to their own - cat bed or dog bed - so, we've popped together the best pet hair comforters for your home. We love our furry friends, but one thing we can do without is the stray hair, fluff, and fuzz that always seems to coat our bedding after a snuggle on the sofa or letting them up on the bed as a treat. It gets everywhere and loves to stick, making it extra difficult to shake off.
Pet-hair-resistant bedding comes to the rescue, and it's a wonderful thing! We've found the best bedding options that not only keep cat and dog hair to a minimum but are also easy to clean and hypoallergenic, great for you and your pet.
Last chance Black Friday deals on pet hair comforters 2023
We interrupt the regularly scheduled content to let you know that although Black Friday is over, there's still time to grab some last chance Black Friday deals on pet hair comforters. These are the retailers that still have deals available or keep scrolling to continue reading our buyer's guide.
Shop the best pet hair comforter deals: Amazon
Save 74%: DEYONGS Radley Silky Soft Throw, WAS £70, NOW £17.96
Duvet deal: Sei Swan Microfibre Duvet, WAS £91.99, NOW £82.99
Save 7%: Beeweed Summer Microfibre Single Duvet, WAS £28.99, NOW £26.99
Half price: Decio Geometric Microfibre Bedspread, WAS £44, NOW £22
From blankets to comforters, duvet covers, and bedspreads, these are a must-have for pet owners who are looking to keep their bedding as clean and fuzz-free as possible. If your dog doesn't like being apart from you, maybe an anti-anxiety dog bed is best. For cats, heated beds are super smart and keep your moggy snug. You could break out a pet hair-busting cordless vacuum if the hair is pestering you.
Best pet hair comforter at a glance
Best all-around comforter for pet hair: Linenspa All-Season Reversible Down Alternative Quilted Comforter
Best bedspread for easy care: Nancy Pink Satin Quilted Bedspread
Best comforters for pet hair
First, we have comforters, often tightly-woven and with a lightweight feel.
Best all round comforter for pet hair
On Sale
Description
Available in a range of colours and sizes, this ultra-soft, all-season microfibre comforter will
Pros
Range of colours and sizes
Plush, hypoallergenic
Lightweight feel
Cons
May not suit all sleepers
Best pet hair comforter for easy care
Description
With dark grey, black, and white colour choices available to suit your pet's fur no matter how
Pros
Lightweight and soft
Easy to care for
Different colours and sizes
Cons
Not for owners that sleep with pets
Best hotel-quality comforter for pet hair
Description
Just because you're trying to pick a comforter to keep your bed clear of pet hairs, does not mean
Pros
Hypoallergenic
Machine-washable
Soft and comfy
Cons
Stock issues
Not for all seasons
Best duvet covers for pet hair
Next, a duvet cover might be your best bet, to mask or repel hairs.
Best all round duvet cover for pet hair
on sale
Description
This gorgeous tanned duvet cover is a great choice for adding a pop of colour to your bedroom that
Pros
Different sizes
Chic, contemporary
Strong and durable
Cons
Pillowcases sold separately
Colour seems to be inaccurate
Best bedspreads and quilts for pet hair
Best washed cotton bedspread for pet hair
on sale
Description
Adding a bedspread is not only a fantastic way of styling your bed during the day and keeping the
Pros
Easy to wash
Suitable for mid-seasons
Comfortable
Cons
Colour seems to be inaccurate for some
Best trendy quilt for pet hair
on sale
Description
Want to add a bit of pizzazz to your bedroom décor? This elegant sage print bedspread is a stylish
Pros
Microfibre material
Machine-washable
Light, warm and comfy
Cons
May be too big for some washing machines
Only available in one size
Best bedspread for easy care
Description
With a luxurious silky satin finish, this quilted bedspread screams quality and looks way more
Pros
Available in two sizes
Thick, weighty and snug
Sleek, pretty satin
Cons
May not be claw friendly
Arrives creased - needs an iron
Best blankets for pet hair
Or, consider a blanket. They could be a fleecy, budget-friendly alternative.
Best blanket for pet hair and comfort
on sale
Description
This is our top item for keeping your pet cosy, great if you're feeling a little guilty about
Pros
Waterproof and soaks up liquid
Reversible comfort
Versatile and machine-washable
Cons
Some customers dispute the waterproof claim
FAQs
How do you get pet hair out of a comforter?
To keep your comforter in top-notch condition, you can regularly vacuum it to suck out any trapped allergens, dust mites, and stray hairs that may have collected on the surface.
Alternatively, if you don't have a handheld vacuum and are looking for an affordable solution, we'd recommend pet hair removers that come as rollers, brushes, and tools to help shift those extra pesky cat and dog hairs.
If you're looking for an instant pet hair remover you can source in your own home, you can try to use lint rollers or tape to pick up loose hairs, or tumble-dryer sheets and rubber gloves to collect hairs using static.
What colour bedding hides pet hair the best?
If you're looking to keep any pet hair that does get attracted to your bedding more discreetly, you should choose bedding similar in colour tone to your furry companion's coat of hair. That way, it'll blend in a little. Result.
For breeds with lighter fur, we'd recommend bedding in the colours grey, beige, and even white for a particularly light coat.
For dogs and cats with darker fur, black, navy, or dark grey bedding would work best to help keep the stray hairs out of sight, and out of mind.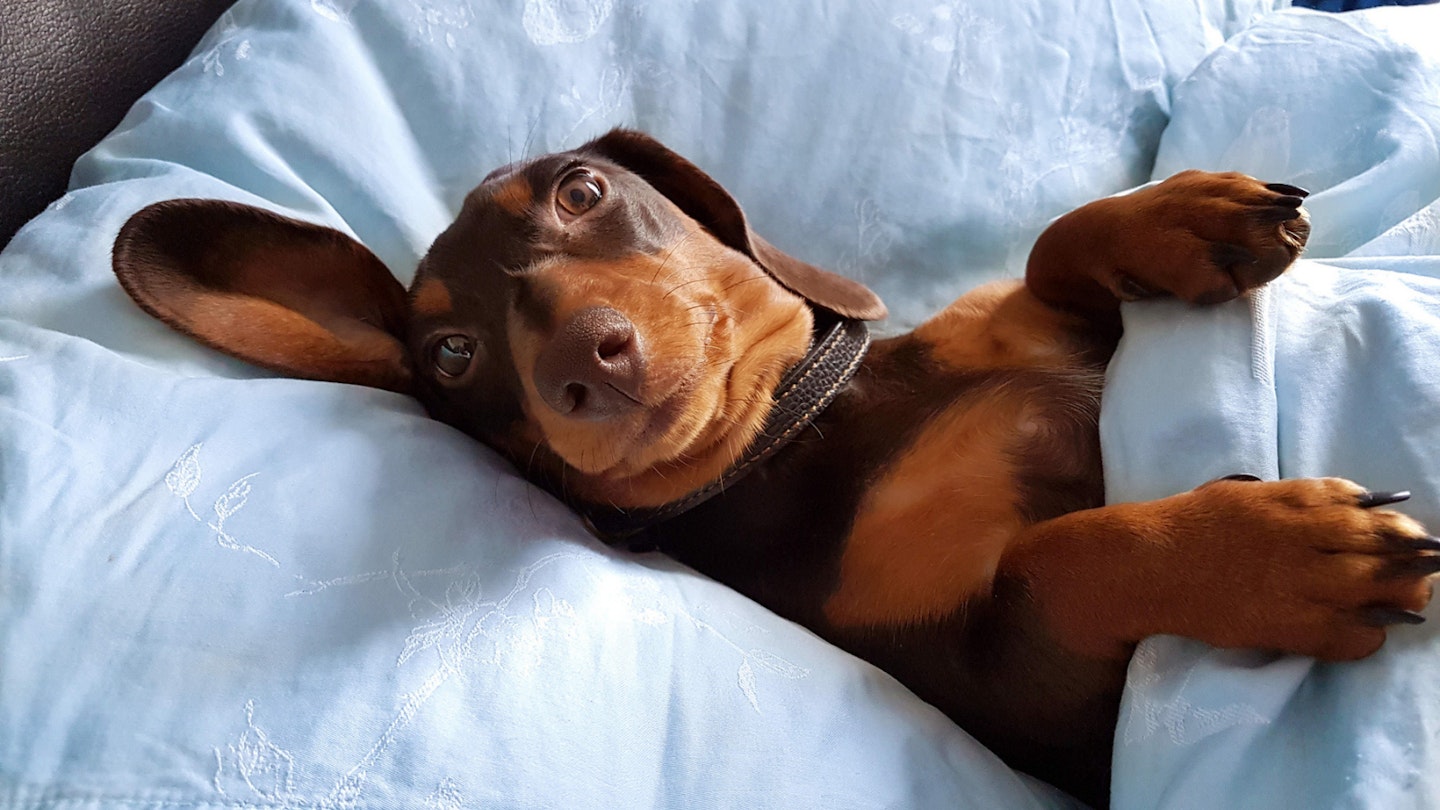 Which fabrics repel pet hair the best?
When choosing your bedding, the most important thing to consider is the material used as this is what will determine how 'sticky' the fabric is. We're here to help.
You should avoid:
High-static materials, which are likely to attract fur more easily. This includes loosely woven cotton, velvet, nylon, linen, acrylic, chenille, and velour.
Highly textured fabrics that are fluffy or embellished. These are more likely to trap hair between the threads, as well as being a risky business for pet claws.
You should choose:
Tight-knit materials that prevent pet hairs and other debris from getting trapped in between fibres. They are easier to rid of rogue fluff with a simple shake or wipe. We'd recommend tightly woven materials such as rayon, satin, silk, canvas, microfibre, and tight-knit cotton.
When shopping for the best comforter for pets, we would also advise choosing duvets or comforters that are machine-washable. Fur — combined with other potential accidents — means you'll probably have to clean your bedding and put it through the machine more often than non-pet owners.
Now you know exactly what to look out for, we've listed some of the best fur-repelling comforters, duvet covers, bedspreads, and blankets on the market. This'll save you valuable time hunting that could otherwise be spent with your furry friend.
Eleanor Weaver is the Deputy Homes & Garden Product Editor for Take A Break Pets, specialising in small pets. Having been a pet-parent to bunnies and hamsters, she knows just how to care for these little fluffs as well as making sure pets of all sizes are happy and healthy.