As dog owners, we like to keep on top of flea treatments, with vets recommending that you apply a flea treatment at least every three months and once per month for puppies until they are six months old, however, the best dog flea shampoos can also help. They're just what you need in your dog grooming products kit to try and keep the pests away.
Last chance Black Friday deals on dog flea shampoo 2023
We interrupt the regularly scheduled content to let you know that although Black Friday is over, there's still time to grab some last chance Black Friday deals on dog flea shampoo. These are the retailers that still have deals available or keep scrolling to continue reading our buyer's guide.
Shop the best dog flea shampoo deals: Amazon | Pets at Home | Viovet
27% off: The Healthy Dog Co. Sensitive Flea Dog Shampoo, WAS £21.99, NOW £15.99
10% deal: Animology Flea + Tick Dog Shampoo, 2x250ml, WAS £14.99, NOW £13.23
Save 9%: Oatmeal & Aloe Vera Dog Shampoo, WAS £10.99, NOW £9.99
Sometimes though, fleas just stick. As well as catching fleas from other animals, large gardens, long grass and areas of wildlife are a handful of places where your pet could pick up the pests. You can spend hours trying to pull them out one by one or cleaning carpets and furniture but they'll keep coming back. If you're struggling to get a hold of these pesky insects, we've got the best dog shampoos to help you treat the problem.
Best dog flea shampoos at a glance:
• Best overall dog flea shampoo: Animology Flea & Tick Dog Shampoo - view on Viovet
• Best sensitive skin dog flea shampoo: Pike's Pouches Oatmeal & Aloe Vera Dog Shampoo & Conditioner - view on Amazon UK
• Best vegan dog flea shampoo: Cooper And Gracie Flea Shampoo For Dogs - view on Amazon UK
A parasite, fleas will latch onto dog hairs and bite your pets, making them uncomfortable and itchy. With newer dog flea treatments and shampoos coming into action, you can kick these fleas away before they become too much. It's best to try and repel and reduce the number of fleas on your dog before they even get there with treatments and shampoos. Luckily enough, we've rounded up options for the best flea shampoos for your dog.
The best flea shampoos for dogs
Best overall dog flea shampoo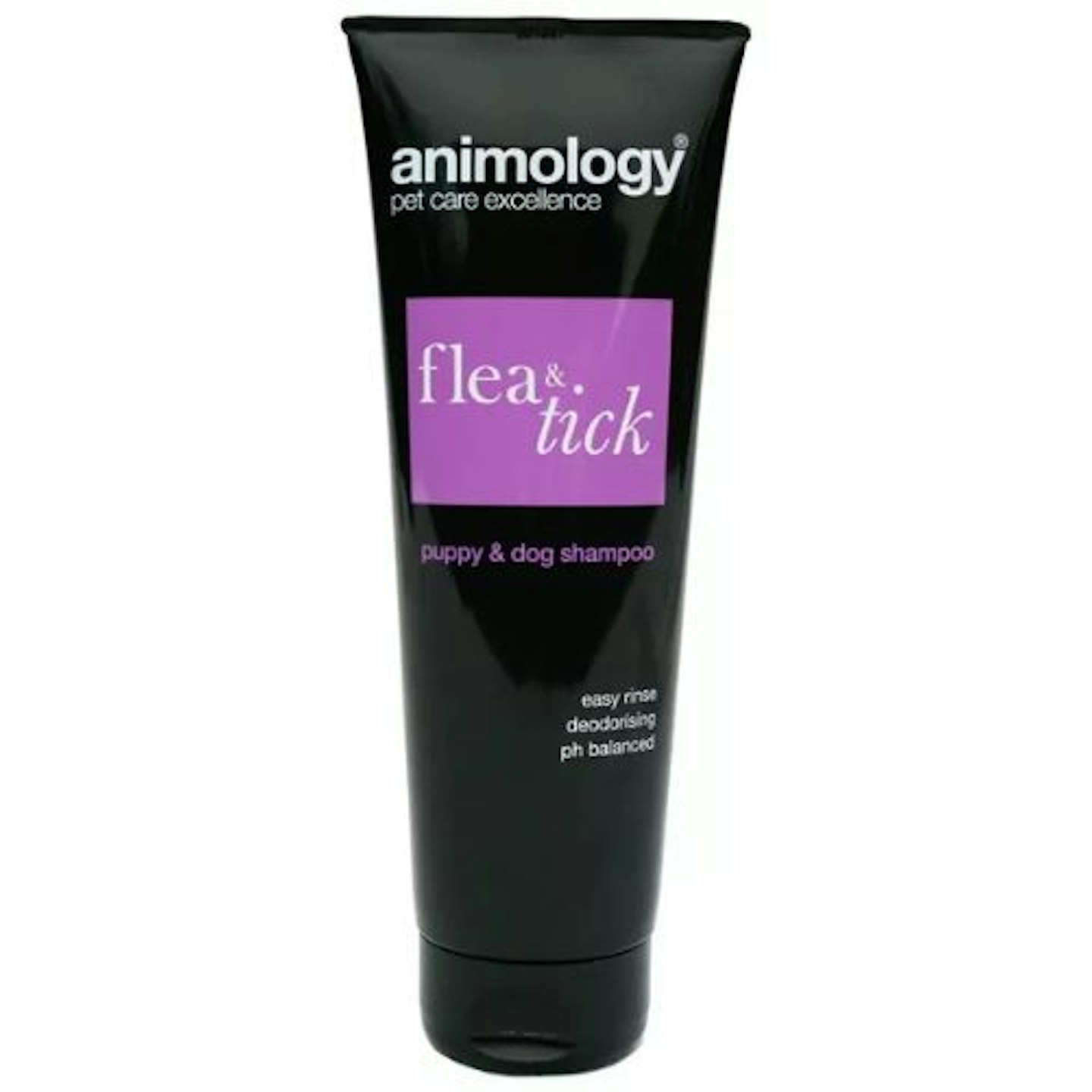 Viovet
Description
Well-known in the grooming world, this Animology Flea & Tick Dog Shampoo is our top overall pick.
Pros
Kills fleas and ticks on contact
Soothing with natural ingredients
Pro-Vitamin B5 keeps your dog coat soft and conditioned
Cons
One reviewer felt the shampoo didn't deodorise for long
Best sensitive skin dog flea shampoo
On sale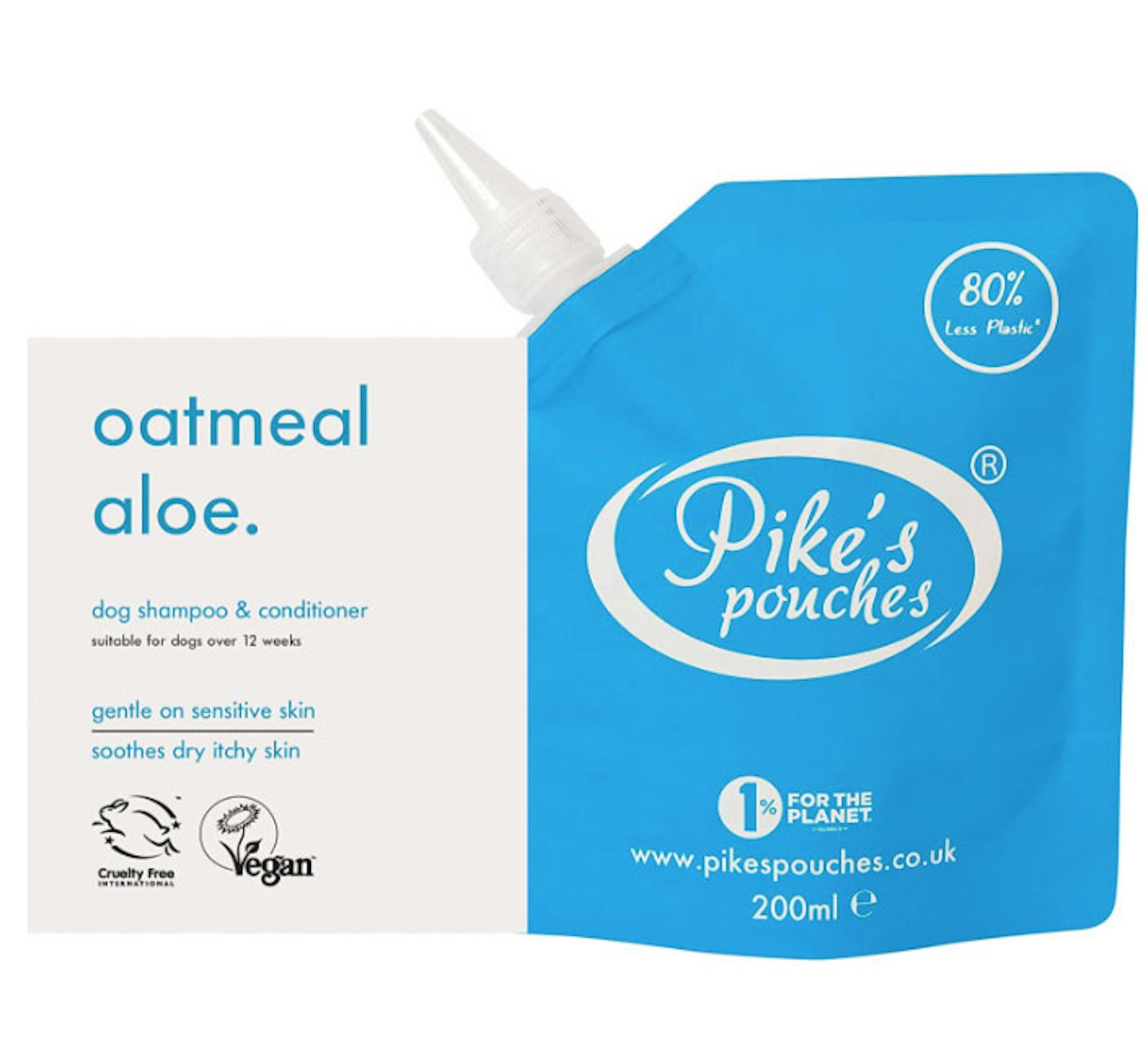 Amazon
Description
A top-rated product on Amazon, grab this Pike's Pouches Oatmeal & Aloe Vera Dog Shampoo &
Pros
Suitable for sensitive and irritated skin
Extra soft from natural ingredients
Eco-friendly packaging
Cons
Some reviewers wished the pouches were bigger
Best vegan dog flea shampoo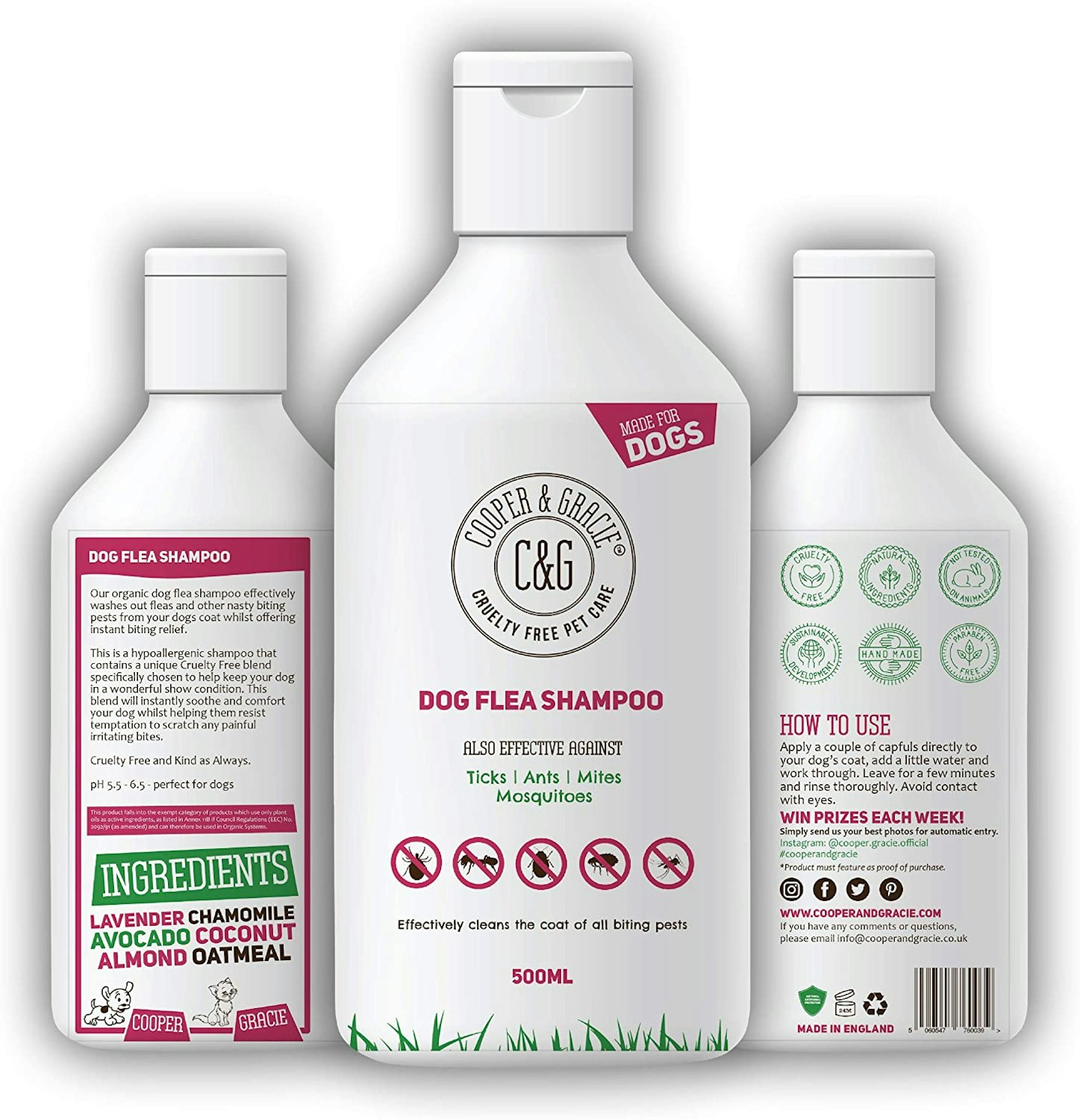 Amazon
Description
Cruelty-free and vegan, this Cooper And Gracie Flea Shampoo For Dogs is made for those looking to
Pros
Efficient and easy
Hypoallergenic
Ingredients are all natural, ethical, cruelty-free and plant-based
Cons
Some reviewers have reported bottles having leaks when delivered by Amazon
Best dog flea shampoo for puppies
on sale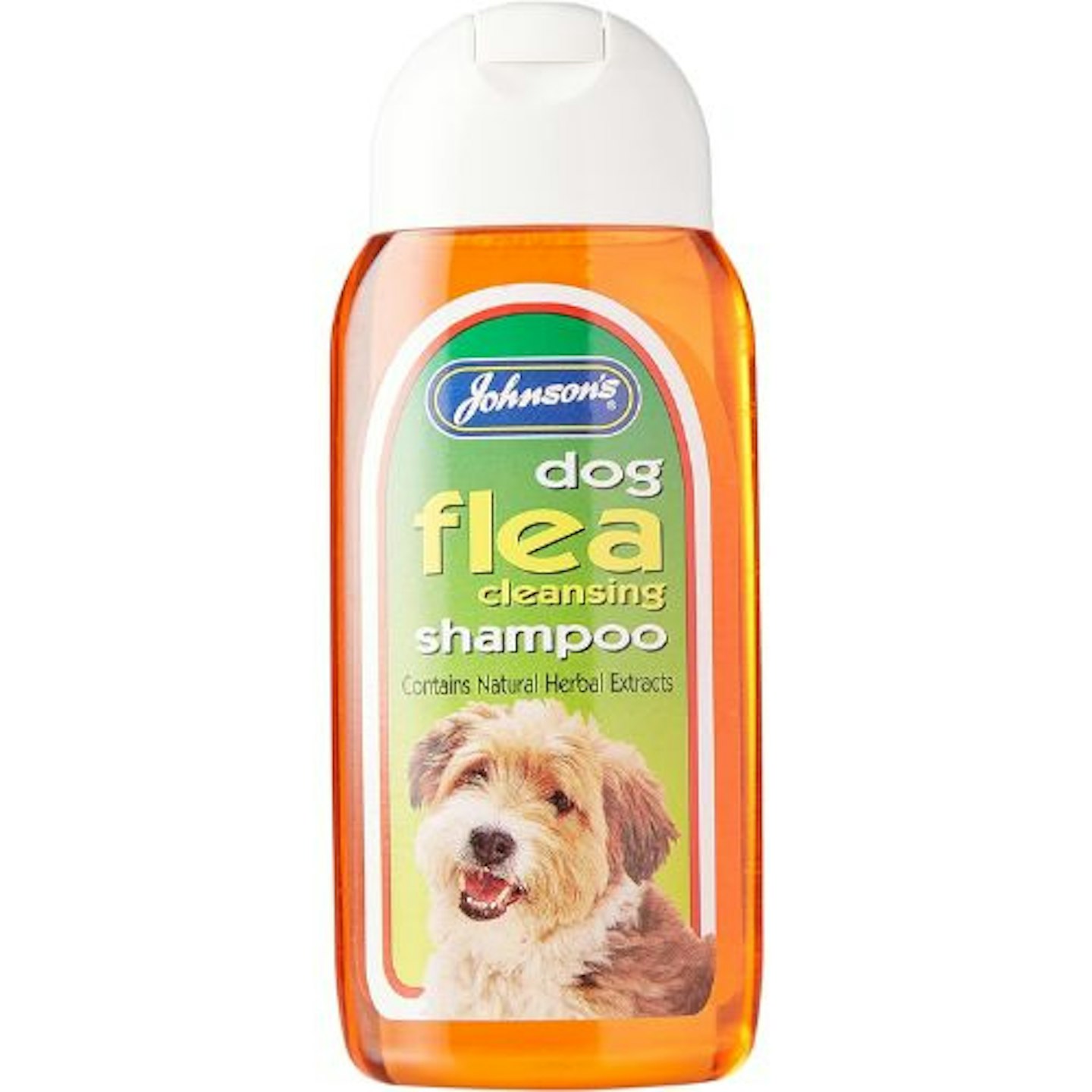 Amazon
Description
This Johnsons Puppy & Dog Flea Shampoo is perfect for puppies over twelve weeks of age. Killing
Pros
Kills fleas on contact
Soft coat and conditioned fur
Smells great
Cons
Some reviewers reported having to use this shampoo multiple times before they started to see results
Best preventative dog flea shampoo
Description
Our final pick of the best dog flea shampoos is this Bob Martin Clear Flea Repellent Shampoo for
Pros
Fleas killed on contact
Leaving your dog shiny and soft
Good value
Cons
Not suitable for female nursing dogs
FAQs
How do I keep fleas away?
So there you have it, our top pick of the best dog flea shampoos. Now that you're killing off all the fleas in your dog's fur, you may be wondering how to keep them away from your house and pets for good.
We recommend deep cleaning your house, so any fleas stuck in furniture will be taken away and won't be able to jump back onto your pooch. As well as this, there are some products you can get your hands on to ensure they won't be coming back.
Best household flea cleaner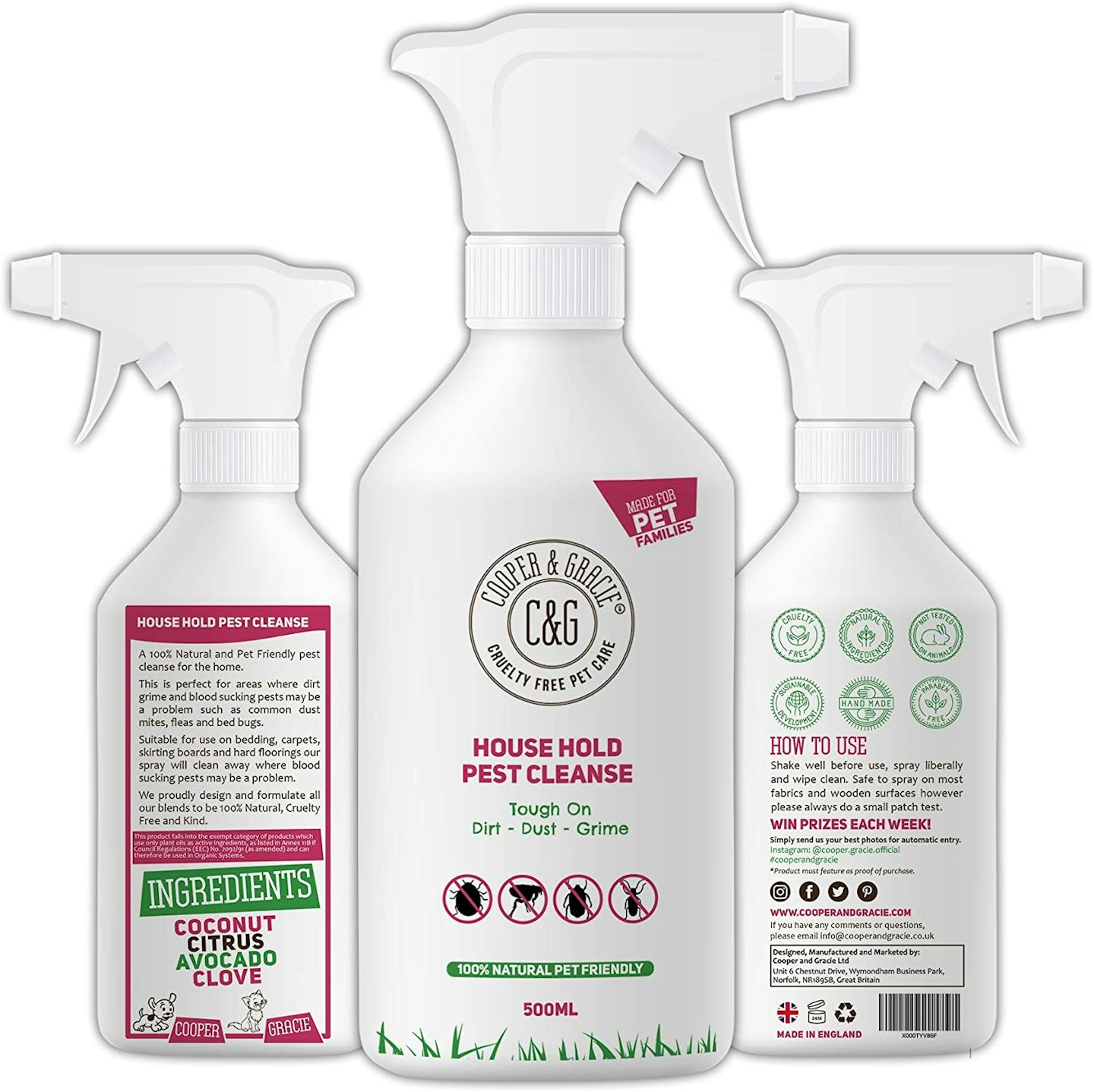 Amazon
Description
Just spray the C&G Pets Household Pest Cleanse onto your furniture and this should kill off the
Pros
Citrus scent
Non-toxic
Made in the UK
Cons
Although it is safe to use on most fabric and wooden surfaces, the brand recommends doing a small patch test to begin with
Best household flea spray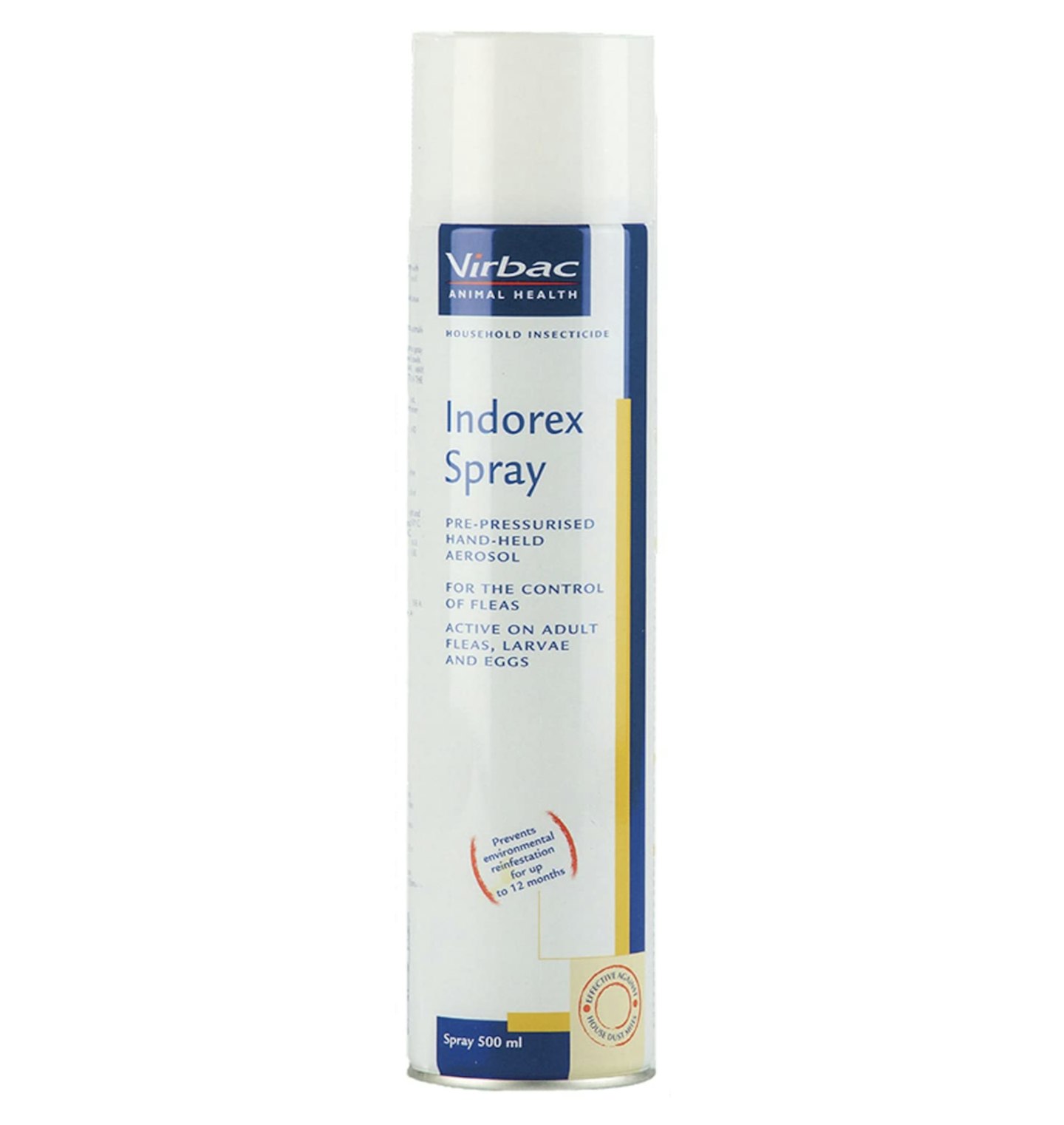 Amazon
Description
Another great spray for targeting fleas and dust mites is the Indorex Flea Spray. It's designed so
Pros
Long lasting treatment
Good value for money
Gets rid of fleas and lice quickly
Cons
It can cause skin irritation so apply with caution
The RSPCA also recommends combing through your pet's fur coat once a week using a fine-toothed comb held over something white, like a piece of kitchen paper. Any fleas or flea droppings will be deposited on the surface. Add a few drops of water, and if the droppings turn reddish brown it's very likely your pet has fleas.
You should also make sure that you are grooming your pet regularly as it has many benefits and will improve the bond between you. Even if you have a dog with short hair, you should still groom your dog regularly and trim their hair with dog grooming scissors. Making this a regular routine will keep their fur cleaner and will show if your pet has any fleas or ticks.
How do I know my dog has fleas?
Before you start investing in any new flea treatments for your pooch, it's best to know what you're looking for.
The most obvious place to start is, of course, scratching. If your pet starts to scratch or gnaws uncomfortably at its body more frequently, it's best to check it out and see what's going on. At this point, you can probably work out whether it's fleas or not.
Signs and symptoms of fleas and ticks:
• Scratching
• Hair loss or balding
• Spots around the body
• Over-grooming
• Redness, irritation and sore patches
• Thickened skin
• Dark specks in fur or around furniture
As well as this, if you notice insect bites start to pop up on yourself, especially on your ankles, then these fleas may be pinching at your skin too.
Once you've spotted the signs, do a quick check throughout your dog's coat with a fine-tooth comb. If you're unsure, always remember it's okay to give your vet a call, just to check.
How can I treat dog fleas?
The best way to treat dog fleas is to get a hold of them before they can get onto your dog with a prevention treatment. This should be easy if you pick up a flea treatment regularly as they can kill off the problem before it starts.
This is easy to do at home and most frequently done with 'spot-on' treatments which work by just popping the small vial of liquid at the back of your pup's neck every month. Super easy, efficient and will keep your pooch calm. You can also get flea collars, powders and sprays as an alternative to these spot-on formulas.
If it's too late for prevention, then a dog shampoo is the best way to go, by getting deep into the fur to kill the fleas. After this, you'll want to de-flea your home with furniture treatments and a deep clean.
Rosie Floyd is a Pets, Homes and Garden Product Writer for Take A Break Pets, specialising in all things dogs. She grew up always having at least one dog as part of the family and has experience in owning a variety of breeds, including Labradors, Cockapoos and Yorkshire Terriers.